Tag: Ansel Adams
B&H Event Space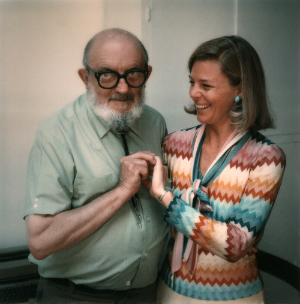 Lecture by Andrea Stillman
Looking at Ansel Adams: The Photographs and the Man
Wednesday, February 20, 2013, 1:00-3:00 pm
Registration is closed, arrive early to get on the waiting list.
"Few photographers have had more impact on America than Ansel Adams, and we are very excited to be able to celebrate his birthday with his former assistant, Andrea Stillman. Andrea's talk will be an intimate look at the photographer and the man. Said an attendee at one of her museum lectures, 'You made Ansel come to life for all of us.'
Here is what Andrea has to say about working with Ansel: "I first met Ansel in 1972 when he came to New York to discuss an exhibition of his photographs at the Metropolitan Museum of Art where I worked. I was immediately impressed by his open friendly demeanor, his sense of humor and his modesty. We worked together for two years on his retrospective, and after it opened in the spring of 1974 he asked me to move to Carmel and become his assistant. I leapt at the chance, and for the next six years I worked for Ansel in his home studio. He always had a photographic assistant to help in the darkroom, so I did everything else. This included managing the sale of hundreds of his photographs – everything from telling Ansel which negative to print to approving the final mounted photograph and writing the title on the back. I also edited his writing and lectures and worked with him on innumerable books of his photographs – selecting the images, assisting with the production, and working on press to assure the best reproductions. I also accompanied him on many trips to open exhibitions and promote new books. One of my last tasks was to organize his extensive archive. It included an enormous correspondence with artists like Alfred Stieglitz, Georgia O'Keeffe, and Edward Weston and hundreds of his photographs made over more than fifty years–ranging from a unique 3 1⁄4×4 1⁄4inch contact print of lodgepole pines in the High Sierra made when he was nineteen years old to an enormous 40 x 60 inch mural size print of Mount McKinley made in the 1960s. In addition I produced a one-hour documentary on his life for public television."
Andrea's talk will be followed by a book signing of her highly acclaimed book, Looking at Ansel Adams: The Photographs and the Man."
B&H SuperStore, 2nd floor
420 9th Ave
New York, NY  [map]
Center for Creative Photography
Lecture by John Sexton:  Ansel Adams: A Personal Recollection
Book signing to follow.
Monday, May 9, 2011, 5:30 pm
Admission: FREE and open to the public
"During this lecture, Sexton will present new material he has not previously presented.  He will discuss the nuances of Ansel's renowned photographic techniques, provide insights into Ansel's creative process, and present some of his well-known, as well as lesser known, images.  In addition, Sexton will recount personal anecdotes of working side by side with Ansel.
The lecture is being offered in association with the exhibition of nearly forty prints Ansel Adams: Arizona and the West which is on display at the Center through May 15th. It is a rare opportunity to see this group of photographs, representing the entire course of Adams's prolific career."
Center for Creative Photography
University of Arizona
1030 N. Olive Rd.
Tucson, Arizona 85716  [map]
Earth Now: American Photographers and the Environment
At the New Mexico Museum of Art [map]
Opening Reception: April 8th, 5:30 to 7:30 pm
Reception is free and open to the public
The exhibition will be open from April 8 to October 9, 2011
This opening is happening the same weekend as the Publish Your Photography Book Seminar: a one day seminar in Santa Fe on April 9th!  See MVS ON THE ROAD for details.

About the Exhibition
"Almost since its invention, photography has played an important role in shaping how we understand the American landscape.  This exhibition of nearly one hundred photographs opens with a small suite of prints by the famous landscape photographers Ansel Adams and Eliot Porter, examining how they used their works of art in the service of environmental causes."
You can learn more about the exhibition and the artists, see some of the artwork, and watch videos at the Earth Now online exhibition.
Artists in the Exhibition
Ansel Adams, Robert Adams, Subhankar Banerjee, Bremner Benedict, Michael P. Berman, Joann Brennan, Suzette Bross, Sarah Charlesworth, Christine Chin, Dornith Doherty, Chris Enos, Terry Evans, Daniel Handal, Robert Glenn Ketchum, Mark Klett, Beth Lilly, Greg Mac Gregor, Victor Masayesva Jr., Brad Moore, Matthew Moore, Richard Misrach, David Maisel, Patrick Nagatani, Bill Owens, Eliot Porter, Brook Reynolds, Laurel Schultz, Christina Seely, Sharon Stewart, Carlan Tapp, Brad Temkin, Robert Toedter, Sonja Thomsen, and Phil Underdown.